Terra Nova
Tired of being a gun for hire, I started my own band so that I could play music I was passionate about. This is also the point at which I switched to singing and playing guitar. Inspired by my previous associations with guitar players, I purchased some pro equipment and set the woodwinds aside (literally, on a stand behind me to grab for the occasional solo). This had the extra benefit of saving on an extra band member so that I could afford a percussionist.
Terra Nova is the name used for cover band projects I put together to perform listening and dance music featuring contemporary pop, light jazz, and world fusion styles. Oh, and I decided to go by the stage name, Kevin Jay.
I wrote out detailed lead sheets for each tune (one pagers). Major influences were Brazilian MPB (Ivan Lins, Djavan); Afro-cuban (Miami Sound Machine); Sting, Paul Simon, David Byrne and Peter Gabriels's explorations of tropical and African styles that were in trending at the time; Louisiana funk (Neville's); and Sade and Basia's international pop styles. Arrangements are mostly faithful to the original — often with extended solo sections.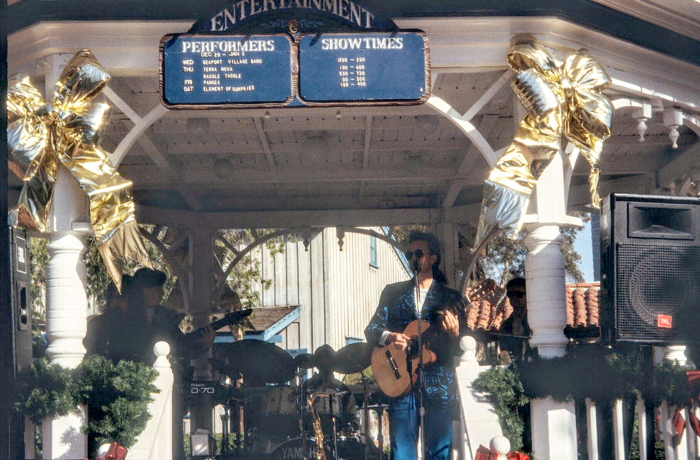 Seaport Village Gazebo Stage
Terra Nova performed at many well-known San Diego area venues (Seaport Village, Hyatt Mission Bay, Hotel del Coronado, harbor cruises... to name a few). Also, with a different drummer and bass player, we played for 6 weeks, 5 nights/week, in an underground, quasi-legal, all-night club in Tapei, Taiwan.
Cool story. The band was playing an afternoon gig on a floating dock (don't ask) in the marina of the Mission Bay Hyatt. No audience, save for a few passersby and onlookers standing on their balconies of the 5 story hotel we were facing. One day, a man came over and stood, listening for about 20 minutes, which was unusual. At the set break, he told me how he really enjoyed my guitar playing. Turns out he was the head of DigiTech, the premier guitar effects company of the day. He told me to get in contact if I ever needed anything. Right away, I asked if he could get me the latest RP-1 multi-effects pedal board, which I had my eye on. He paused and then said, "My secretary hates when I do this. Call this number, and she will get you one at cost." It had everything I ever needed for the rest of my career.
Terra Nova Duo
At the end of the Terra Nova period, as live music venues began to dry up with tighter budgets and DJs just starting to make the scene, I established Terra Nova as a Duo. I sequenced backing tracks — leaving room for live vocals, guitar, keys, and woodwinds.
Besides the economic advantages, from the time spent sequencing the backing parts, I learned how songs are arranged and produced in minute detail.
NOTES

Kevin Jay (Kevin Cornwall): vocals, guitars, saxes, flute, sequences
Leslie Allyn (Leslie Banach): vocals, keyboards
No over-dubs - straight to 4-track
Terra Nova - Live at Elario's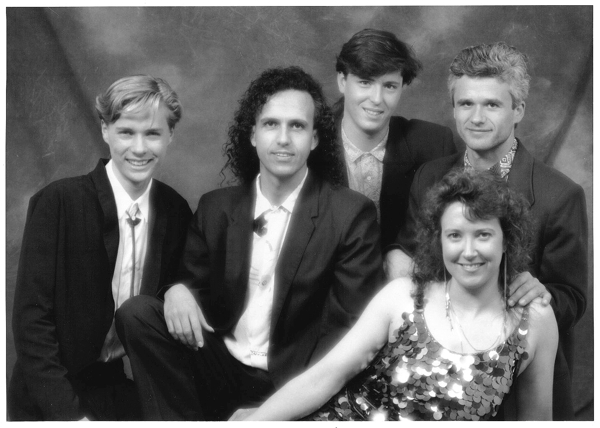 Final version of the group
I'd always dreamed of playing Elario's Bistro, San Diego's premiere jazz club. I watched many big names perform there. Elario's also occasionally showcased local groups. At a time of transitioning away from live music, they were looking for a more contemporary format and hired us for a weekend. It wasn't quite the jazz venue it had been, but you can believe I stretched out the solos.
This recording was made with an inexpensive stereo microphone direct to a home tape deck. As with any ambient, live recording, there are balance and distortion issues. Still, it's nice to hear full versions of these tunes, playing at our peak, and reminds just how much this group achieved by way of mastering a wide variety of styles.
A note about equipment. This project required substantial physical dedication. For every gig, I transported, set up, and tore down: 4 woodwinds, two guitars, guitar effects unit (plugged straight into the mixing board - I did not lug a guitar amp), two microphones and stands, and the 3.5 foot gig rack with mixer, effects and main amps. The keyboardist brought the stage speakers, speaker stands, and monitors.
NOTES

Playlist is in the order of performance
Kevin Jay (Kevin Cornwall): vocals, guitars, saxes, flute, agogô
Leslie Allyn (Leslie Banach): vocals, keyboard
Ken Dow: electric stand-up and fretless bass
Jordan Dalrymple: drums
Majida: percussion
This was the longest running and final makeup of the group.
Terra Nova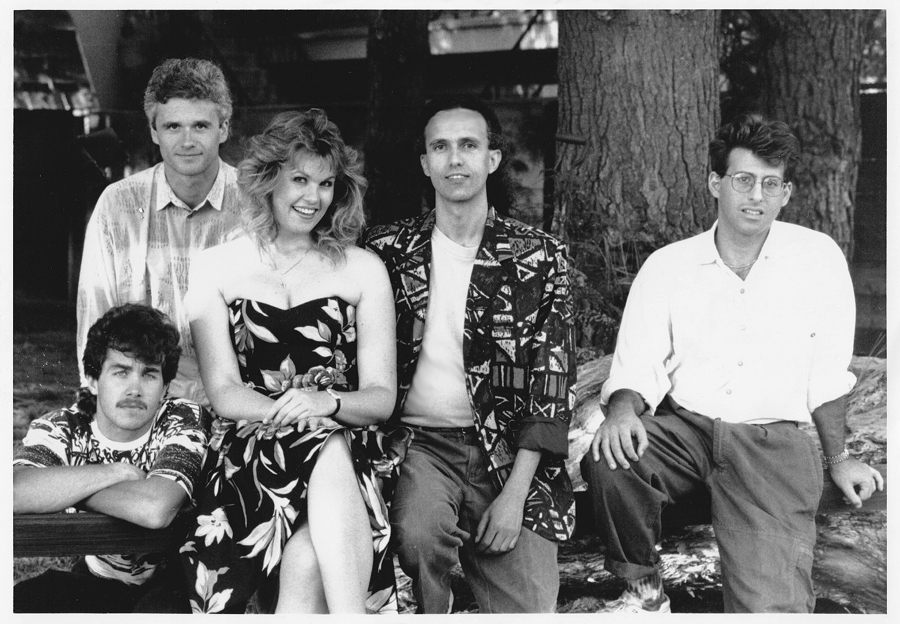 2nd version of the group
Terra Nova, as a band, went through 3 complete incarnations - (not including a 4th, four-piece group, that traveled to Taiwan). When asked by a departing bassist why I kept at it, my reply was, "I don't have anything better to do." Another way of saying, "What can be more worthwhile doing than pursuing your dreams?"
This line-up never performed live. It was reformed for the 3rd time only a few weeks after this demo was cut. The guitarist from Jazz Thieves, who I kept in touch with, had a home studio where this was recorded. (Suffice it to say that we were learning.)
The songs here represent an early set list and early sound (we got better, see above) that was regularly refreshed with material from current radio playlists over the few years of the project.
NOTES

Kevin Jay (Kevin Cornwall): vocals, guitars, saxes, flute
Jackie Carpenter: vocals, keyboards
Craig Kleinman: fretless bass
Chris Beers: drums
Majida: percussion