Other Gigs
As a hired gun, I played the gamut of styles and bands. Keepin' it fresh. Steadier work was with Island Fever productions and on cruise ships (see below). Other odd casuals were playing Octoberfest polkas on soprano with an accordionist; tenor for a blue's bar band; solo alto sax at an art opening; blowing some solos for a couple of tracks on a female singer's Christian pop album; and backing a jazz singer in a lounge performance for her college thesis.
Island Fever Steel Drum Band
The Island Fever style was Soca and Reggae. Steady venues were the San Diego Zoo (2 summers), parties, and special events. It wasn't uncommon for them to add an entire Hawaiian dance troop.
In addition, they booked almost every style imaginable. Some stand outs were a Renaissance gig at the SD Convention Center, with me improvising on recorder. Dinner jazz for a few Japanese investors hosted at a La Jolla mansion, me on saxophone and flute fronting a trio piano and bass trio. And there were a couple of corporate events with me fronting a guitar trio (bass, drums) with a borrowed Gibson L3.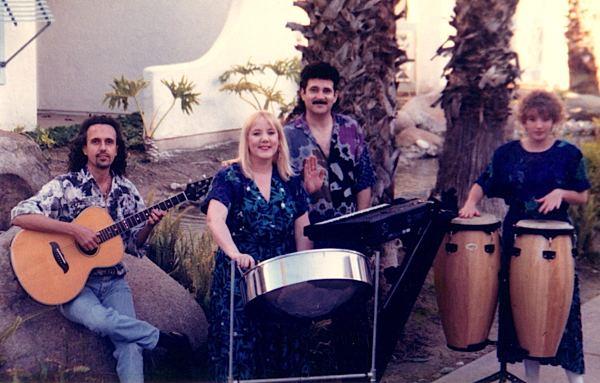 Cruise Ships
I put in 2 stints on small cruise ships to the Caribbean playing guitar and sax in a top 40 band. It was a very polished band. The first 3 months our origin point was Manhattan! We'd dock there once a week — with a free afternoon to explore (Central Park, art museums)— before setting off to Nova Scotia, Bermuda, Bahamas, or Jamaica. Finally, I could buy some Cuban cigars. Crew members were from all around the world. Culture enrichment overload in all directions.
Whereas the passengers were off limits to most crew members, entertainers were encouraged to fraternize with them. We were even given a weekly allotment of drink tickets, so we wouldn't spend all of our pay on booze (same reason that we were barred from the casino). Anyway, the crew had their own bar down in the bowels of the ship with 50¢ beers where we would sometimes hang out.
Sets were any time of day — early morning, afternoon, or late night — depending on the day's other activities. This required sleeping in shifts in our porthole-less crew cabins. Interrupted sleep, along with way too much booze and carousing, it was a wonder I survived. For that matter, the entire career of a gigging musician is alcohol-infused, often drinks are thrown in as part of the pay.
A separate gig was a day cruise, from San Diego to Ensenada, where I subbed for a couple of weeks in a small, big band. More Cuban cigars.